Complete Guide About Subway Tiles
Subway tiles are rectangular, artificial stone-like tiles that were originally used in the New York City Subway system during the early 20th century to decorate subway stations. Those large urban subway stations inspired a fad when the tile was embraced by architects who incorporated them into their designs and homes of everyday people as well. In fact, subway tiles can be found in most houses today, and they aren't just for the kitchen any longer. With companies starting to sell painted versions of this popular tile design, you can do anything with them, such as use them on your bathroom walls or even your fireplace niche.
As beautiful as these tiles are to look at, however, they can be very damaging if you don't protect them. You'll find that a lot of the guides provided by tile manufacturers recommend cleaning your tiles with regular household cleaners. This is potentially harmful as it will remove much of their color and shine. Not to worry though, since there are some great ways to keep your tiles looking fresh without having to do any scrubbing.
The first thing you need to do is make sure you aren't doing anything to damage your tiles, such as scuffing them with a vacuum cleaner or an abrasive cloth. Tiles are porous and can get easily damaged at this level. It's also important that you don't use harsh chemicals on them, as this will cause them to erode. The best way is to get yourself some regular household cleaners and learn how to use them properly without damaging your tile's shine, color and overall surface quality.
Subway Tiles Applications:
Subway tiles are one of the most popular decorative tiles today. People use them in houses, kitchen backsplashes, bathrooms, pools and spas. In this way they create a special atmosphere for living space to be cozy and comfortable. These large rectangular or square tiles with typical sizes 18x18" or 24x24" can add original features to your home, especially in the kitchen and bathroom areas.
Subway tiles are popular due to their availability in a wide variety of colors and designs to match any taste and interior style. Subway tile patterns can vary from simple repeating geometric shapes to Victorian motifs as well as classic floral or animal prints. They look great not just on kitchen backsplashes, but also on walls as well.
Subway Tiles Disadvantages:
Subway tile backsplashes are very attractive but they require special care. The problem is that these tiles can become easily stained, especially if you cook a lot. It's best to choose a tile with small grout lines as this will make it easier to clean and maintain the tile's original appearance. Regularly cleaning your subway tiles is very important as it will prevent the stains from setting into the tile and making them impossible to remove later on.
Unfortunately, cleaning these tiles can be a bit of a challenge. It's important that you don't damage the surface of your subway tile or use harsh chemicals to clean it. Using regular household cleaners is enough for most situations as long as you know how to use them properly.
Subway Tiles Cleaning Methods:
The first thing you need to do is make sure you are using the right type of cleaner for your tile. Avoid using abrasive or harsh chemicals on it, as these will damage the surface and most likely cause stains instead of removing them. A good tip is to use an organic solvent, such as white vinegar or lemon juice.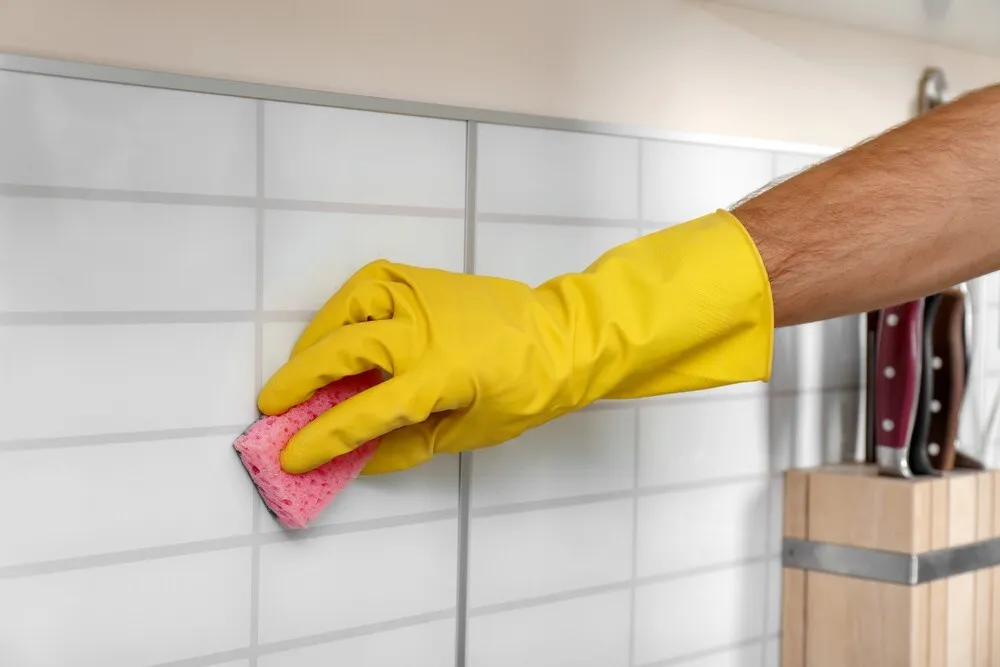 Vinegar:
It will help you remove stains, especially from grease and yellowing caused by smoking. Bentonite clay or fuller's earth is also very effective at removing anything stuck on your tile, be it around the edges of the tiles or in grout lines. These substances will not harm your tile and will help you remove even the most stubborn stains. You can also use them on their own to clean the tiles or combine them with vinegar.
Baking soda
It is another great option for cleaning your subway tile backsplash, especially if it has been damaged in any way by chemicals or harsh cleaning products. Use it to remove stains and clean your tile, you will be surprised at how well it works. Another good thing about using baking soda is that it won't harm your tiles or leave any odor behind.
Lemon juice:
It is also a great alternative for cleaning your subway tile backsplashes as mentioned above but also as a substitute for vinegar. It's an excellent cleaning agent and you will soon notice how it works to remove even the most stubborn stains.
Fuller's earth:
Fuller's earth is another alternative for those who prefer a more natural soap. It doesn't require any rinsing after use and it will also help you remove any mold or mildew from your tile backsplash, be sure to try it.
More about Subway Tiles Types:
For example, subway tiles are often used together with mosaic tiles and patterns can be matched accordingly. It's easy to find different patterns of the same style that will look good together in a single room. This type of decorative tile also looks great in bathrooms, kitchens and fireplaces. Although they are often used in the kitchen, they also look great for bathrooms as well as other areas of the home such as living rooms, dining rooms or bedrooms.