Water Closet Manufacturer in India
Every home needs a dependable, well-built toilet. When it comes to simplicity of setup and upkeep, effectiveness, and additional features, the finest water closet on the market stands out for its general consistency across multiple characteristics.
These types of water closets often are distinguished by their mechanism, aesthetic value, and overall design. Bluecera LLP is widely regarded as the best water closet manufacturer in the Indian domestic market. For its consistent design and performance, the brand has also created a reputable status around the globe as well.
Bluecera offers the finest of the water closet in the market, and they are not just available in a single category but also in many types.

1. Types of Water Closets:

The different types of water closets include:

1. ELECTRONIC WATER CLOSET (EWC):

This Bluecera EWC toilet is packed with unique functions for the optimum hygiene experience. When you approach, the seat instantly rises, and when you leave, the tank flushes mechanically. The warmed chair can keep you comfortable and pleasant on cold days. The toilet function includes a frontal and posterior cleansing with variable pressure.
The water closet is particularly popular in modern homes, especially for those who have a thing for more upscale and contemporary decor.

2. TWO-PIECE TOILETS:

The two-piece toilet is a strong, perfectly designed, and visually appealing toilet from this reputable manufacturer. It is tall and includes contemporary details. It's also offered in a variety of basic hues, including white, grey, and beige, to complement practically any toilet design.
In terms of performance, this two-piece water closet provides a strong flushing motion thanks to its innovative single-flush pressure & swirling flushing innovation, which according to Bluecera keeps the basin neat and tidy for a long period.

3. WALL-HUNG TOILETS:

Many contemporary toilet closets are designed to save space by eliminating the need for a cistern and instead using a hidden flushing tank or valves. Bluecera water closets were conceived and built with the particular necessity of space saving as well as efficiency in sight.
The wall-hung toilets are one of the most sought-after products in the Bluecera catalogue, especially for their free-floating design and concealed tank aesthetics. The design is minimalistic yet very modern and hence is quite popular in modern architecture.

4. ONE-PIECE TOILETS:

The sleek, eye-catching toilet is suitable for any contemporary style, whether mid-century to minimalistic. The One-Piece Toilet is more than just an unusual look; it's also a feature-packed in the water closet i.e Bluecera one-piece toilet, with intelligent engineering elements that facilitate installation and cleaning a breeze.
It also features an expanded seat and a bowl elevation of 16 inches, so it sits somewhat taller than the normal elevation. The soft-close toilet seat adheres to contemporary architecture that is both useful and elegant.

2. Variety of Water Closets at Bluecera:

1. Camel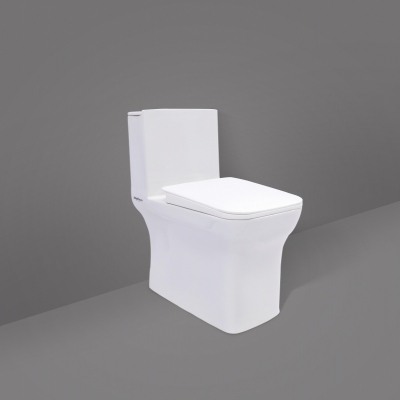 The camel series water closets offered by Bluecera are inspired by modern trends and design. The wider shape, curved edge, and relatively higher seat make these types of water closets way more practical and more in sync with most décor.

2. Honey
The Honey series water closets are another popular offering by Bluecera LLP. Though quite classical in its design the Honey series is exemplary when it comes to engineered functions and that makes every trip to your toilet a happy experience.

3. Moon
The Moon series is right out of the starry and imagination which is inspired by the moon itself. The full moon circular design and of course the modern functions such as a soft close seat cover and powerful flush system make them a perfect choice for modern as well as classic home aesthetics.

4. Sara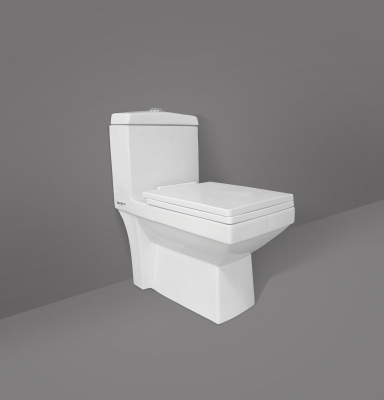 The toilet closet which is offered under the Sara series is very contemporary. The geometric design with straight edges and no curves are much more preferred by homeowners who have modern home décor, and yet the design somehow fits perfectly into other aesthetics as well because of its feature-packed architecture.

3. Standard Size of a Water Closet Available in the Market

Bluecera keeps its promise of consistency and provides all of its water closet collections in standard sizes available in the market. As a water closet is designed for a particular need too much experimentation in the standard dimensions may hinder its overall efficacy and hence Bluecera believes it is best to offer them in its most popular and widely used dimensions.
The overall depth of the bowl, the total height of the closet, the outer width, and the in-width all are designed within the standards. This ensures a more comfortable and convenient application of the water closet.

4. Our Commitment to Being the Leading Manufacturer of Water Closets in India

Bluecera and its ongoing pursuit of perfection have ensured that the commitment to enhance, improve and evolve its product line. As a water closet manufacturer in India, Bluecera LLP has grown by leaps and bounds in recent years.
Bluecera offers a wide range of skills with its brand portfolio, particularly its water closet category. In addition to the water closets series, Bluecera provides a selection of many other sanitaryware options such as wash basins and, of course, tiling alternatives to complement their amazing array of Sanitaryware goods.
In the quest of being the leading manufacturer of the water closet in India, the brand has been able to realise much of its vision through sheer commitment and dedication.
---
Article Published : 21-11-2022
---
For more information-
Contact us : +91 99747 40072
Email us: export@bluecerallp.com